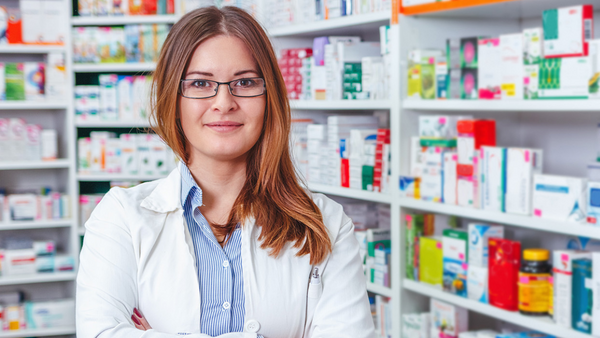 If you are looking to enter the growing California healthcare field, a career in pharmacy is a great choice. There are many paths to a successful career in this industry, and best of all, you will not need to gain acceptance into pharmacy school before you begin.
Whenever you enter a pharmacy, you probably notice that pharmacists have a lot of team members around to support them, including pharmacy technicians and pharmacy assistants. Both positions play an important role in helping the pharmacy run efficiently.
Pharmacy technicians and assistants work under a licensed pharmacist's supervision to ensure patients get the medication they need. However, there are some significant differences in these positions. Keep reading as we break down both careers for you.
What type of education is required?
Pharmacy assistants hold entry-level positions that require no specialized education other than a high school diploma or equivalent. To begin working, you simply need to apply for a job as a pharmacy assistant. All of your training will be done on the job.
Pharmacy technicians hold a slightly more advanced role with additional responsibilities. It is a good idea to complete a pharmacy technician training course that will prepare you for certification. For example, California requires pharmacy technicians to be certified by the Pharmacy Technician Certification Board (PTCB) or National Healthcare Association Pharmacy Technician Certification Program (ExCPT). Additionally, it is essential to check the specific requirements in California before beginning a program. You also may be able to gain valuable experience through real-world situations with a pharmacy externship before starting your career.
What is the job demand like in California?
The job growth for pharmacy technicians and assistants is expected to increase nationwide. According to the U.S. Bureau of Labor Statistics (BLS), jobs are expected to grow by 5% through 2031, equating to over 22,400 new jobs throughout the United States. According to Projections Central, a site sponsored by the U.S. Department of Labor, demand for Pharmacy Technicians in California will increase by 14.7% through 2030, with 3,360 job openings available each year.
What type of salary can I expect to earn in California?
Pharmacy assistants in the U.S. make a median salary of $47,045, according to Indeed.com, with professionals in this occupation making over $51,000 in California, 9% above the national average.
Pharmacy technicians, on the other hand, have an average base salary of $55,945 in California, which is also 9% above the national average. Your salary can rise significantly based on what region of the state you are in, according to Indeed.com. For example, a certified pharmacy technician in Palo Alto can make over $63,000 per year.
What responsibilities will I have?
Pharmacy assistants generally hold roles that are more administrative. For example, they may run the cash register, take inventory, label products, complete data entry, and provide some customer service within the pharmacy.
Pharmacy technicians are able to perform all of the duties of a pharmacy assistant as well as assist in measuring, mixing, and preparing medications; answer some patient questions; review prescriptions for accuracy; package drugs and medical supplies; contact physicians, and even prepare intravenous medications in some settings.
Whichever career path you desire, both are a great first step into the pharmacy profession. Whether you become a pharmacy assistant or pharmacy technician, you can be sure that you will play an important role in helping people get the medication they need, when they need it.
If you want to pursue a career as a pharmacy technician, SDSU can help you get started now with our self-paced online pharmacy technician course that will prepare you to sit for the Pharmacy Technician Certification Exam. As a part of your course, you will also have the opportunity to apply for a pharmacy technician externship, should you meet all qualifications.
Want to Learn More?
Find out how you can start your career as a pharmacy technician with SDSU Global Campus. Visit our website to get started!