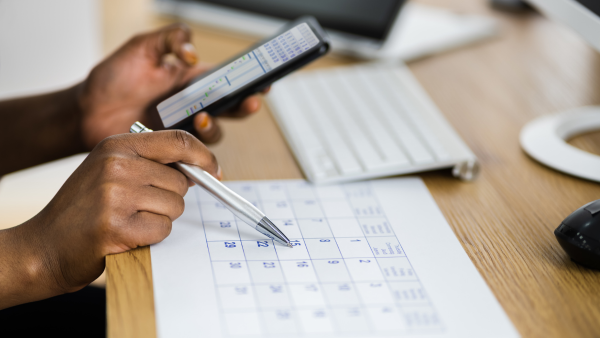 For many online college students, building a class schedule that is efficient and balanced can make all the difference between academic success and failure. A class schedule that is filled with too many classes or out of balance with too many classes on certain days or times can lead to burn out, frustration, and under achievement.
But there are people on your side to help you accomplish your goals and balance your obligations. By understanding what resources and strategies are available to you, you can thrive in your educational journey through online college.
One way to stay on track with building a balanced class schedule is to lean on your advisors for advice and support in building a course plan that works best for you.
"My role as an advisor is to support students in reaching their academic goals," said Naimo Ahmed, Student Success Advisor at SDSU Global Campus. "This includes course planning, reviewing degree evaluations and other graduation requirements, and connecting students to SDSU student services and other engagement opportunities to ensure their success in their degree programs."
Your success advisors are your biggest assets as a student at SDSU Global Campus. Typically when you create your class schedule, they can help recommend that you take two courses, or six units of credit, for every eight-week block of instruction. This suggestion serves as a baseline for you to reference when you enroll in courses, but should be adjusted to the amount of time you have available, your academic abilities, and your existing commitments.
Tips for Success
If you are working your way through higher education, you may be unable to do so as a full-time student when you have work, family, and other obligations to account for. In this case, using effective strategies to help balance work, life, and school becomes vital to your success as a student. Once you create your class schedule with your success advisor, keep these tips in mind when you go about completing your course load.
1: Dedicate a Specific Time to Your Coursework
The first thing you can do is designate a specific time to dedicate yourself to your studies. Many of our courses are asynchronous, meaning that you don't have to log onto them at a specific time. 
While this format allows you to pick when you take your classes, it leaves you susceptible to procrastinating and building up your course material. To best combat this phenomenon, make sure you choose a time to engage with your studies on a regular basis.
Whether you are balancing work, childcare, taking care of a loved one, or anything else prevalent in your life, setting aside a regular time for your classes is the best way to stay on track. Despite how busy your schedule may be, doing so will help you prioritize your education all while maintaining your other obligations.
2: Keep a Detailed Schedule
Once you have figured out a regularly available time you have to take your classes, writing them down in an organized schedule is key. Doing so prevents you from missing deadlines in your courses, juggling too many things at once, and not being able to complete everything that you had hoped to. 
One of the best ways to make a schedule is on a digital calendar such as Google Calendar. Google Calendar is a resource we provide you with that can help keep track of deadlines, events, tasks, and more. 
3: Eliminate Distractions
An enticing benefit of going to college online is that you don't have to leave the comfort of your own home to take time out of your busy schedule and travel to a physical campus. However, this may lead to you becoming distracted in your study environment. 
If you have the space, physically making a study area for yourself away from noises and distractions will help you be more focused and reach your academic goals more efficiently. 
Some things to look for in a good study space include bright lighting, a flat surface to work on, making it organized and comfortable, and finding privacy.
While it may seem like an unnecessary task, making your own learning area is a vital step in building a winning class set-up for online courses. Doing so will optimize your learning experience so you get the most out of your education and have more time to attend to other things that may need your attention. 
4: Know Your Resources
SDSU Global Campus offers an array of resources that are available to you to help you along your online educational journey. A few of these are student success advising, IT support, access to all of SDSU's cultural centers, financial aid and scholarships, virtual student leadership opportunities, student software, virtual wellness sessions, and more.
Some of the cultural centers include:
When you enroll in our programs, you also get access to an array of software that can help you with time management and completing your coursework. Some of these applications include Canvas, EndNote, Google G-Suite, MathWorks, Microsoft Office 365, Zoom, and more.
The virtual wellness sessions we offer are also a good way for you to have a well-rounded online education. They include yoga, meditation, fitness, sports, outdoor activities, and instructional classes to get your body and mind moving. 
Each resource available to you is useful in becoming successful in your educational journey. For a more in-depth look, check out student services to see all that is available to you as an SDSU Global Campus student.
Remember, your ideal college schedule is unique to you and your needs as a student. Make sure to use the resources available to you as there are people that want to help you become successful. Try experimenting with different strategies and study spaces until you find what works best for you.