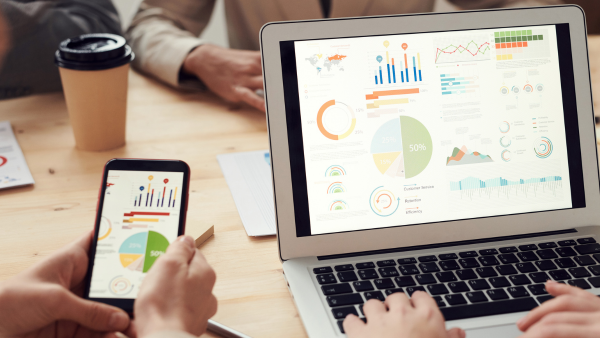 Starting a new career and establishing yourself as a professional can be challenging. That's why at SDSU Global Campus, we offer several online career training programs designed to help you advance in your career or shift your focus to a new one. 
Created in collaboration with our partner Ed2Go, an online education platform, these training programs can help prepare you for a successful and rewarding career in countless industries, according to Veronica Andrews, the director of channel marketing and communications at Ed2Go. 
"Ed2go offers accessible online courses for individuals to build in-demand skills and prepare for industry-recognized certification exams at their own pace. Whether students are looking to enter a new field or advance their current careers, our courses provide a fast and flexible format to help them gain the knowledge and credentials employers seek from top job candidates," Andrews said. 
In addition to arming students with job-ready skills, the training programs are offered entirely online and led by seasoned industry professionals. Most importantly, they are frequently updated to meet employer demands and are affordable, efficient, and convenient. With nearly 400 programs offered, you can undoubtedly find the perfect one to enroll in.
Arts & Design 
We currently offer 11 programs in the areas of art and design. The courses primarily focus on animation and graphic design and can take as little as six months to complete, but no more than a year and a half. Some of the most popular programs include the Digital Game Artist Certificate, the Marketing Design Certificate, and the Adobe Certified Professional program. 
Business 
Business is a broad and diverse industry, so there are more than 70 programs offered in business studies. Our programs specialize in accounting, administration, marketing, sales, operations, project management, entrepreneurship, and soft skills. Currently, the Certified Supply Chain Professional + Freight Broker/Agent Training program is featured, meaning you can purchase it at a discounted price. During this course, you will learn all the aspects of supply chain management and the principles of freight brokerage. You will also prepare for the Certified Supply Chain Professional (CSCP) exam. This course is taught by industry professionals Wayne Durr, Jan Roach, and Jeff Roach, who have more than 75 years of cumulative experience.
Computer Applications
With technology and new applications becoming increasingly popular in the workforce, knowing how to utilize computer applications is a great, in-demand skill. These online career training programs prepare you to use Microsoft, QuickBooks, and Autodesk. One of the featured programs is the Online Bookkeeping and QuickBooks Online Training program. This course will be led by seasoned professionals Helen K. Liatsos, a QuickBooks certified advisor, and Wade Lindenberger, the director of finance and administration at the New Children's Museum. At the end of this program, you will understand how to use QuickBooks Online and payroll basics. Additionally, you will prepare to pass the QuickBooks Certified User exam and the Fundamental Payroll Certification Exam.  
Computer Science  
Without computer science, the applications businesses frequently use would never exist. Instead of focusing on application use, our computer science programs focus on programming and data science. One of the featured computer science programs is the Oracle SQL and PL/SQL Developer with Crystal Reports program. During this course, you will learn how to use SQL to write queries against Crystal Reports and how to write queries with SQL/PL against an Oracle database. Tracy Berry and Nat Dunn, who both have roughly 50 years of combined experience, will function as the instructors. 
Construction and Trades
With more than 8 million Americans working in construction, enrolling in a relevant program and learning in-demand skills is greatly beneficial. These online career training programs focus on trades, transportation, construction, and energy. Some top programs are the Home Inspection Certificate, the HVAC/R Certified Technician course, and the Electrical Technician course. 
Health & Fitness 
Whether you are looking for a career in the medical industry, health sector, or fitness world, participating in a related career training program will help you. These online career training programs focus on different facets of health, like dental, fitness, medical, veterinary, and wellness. One of the featured programs is the Medical Billing and Coding program. Throughout this program, you will learn medical coding terminology, how to code diagnoses and services and prepare for industry certification in this course. This program will be taught by eight industry professionals with more than 150 years of cumulative experience. 
Hospitality
If you feel passionate about helping others, then hospitality is the perfect industry for you to join. Our online career training programs prepare you for a career in the field of hospitality, whether it be a travel agent, wedding planner, or even a pastry chef. One of the featured programs is the Hotel Management with Executive Housekeeper course. In this program, you will learn about hotel management, executive housekeeping, and the fundamentals of hospitality. Marta Perrone, who has more than 30 years in the private service industry, and Thea Roberts, who held a position in the Washington State Ombudsman Program, will lead this program and instruct all students. 
Information Technology
Information technology plays a part in nearly every industry. Our IT career training programs specialize in cloud computing, cybersecurity, IT support, networking, and security. One of the featured programs is the CompTIA A+ with ITIL 4 Foundation. During this course, you will learn the guiding principles of CompTIA A+ and ITIL. You will also prepare for the CT-012 CompTIA A+ Exam 220-1101, CT-013 CompTIA A+ Exam 220-1102, and ITIL 4 Foundation Certification Exam. Andrew Beal, who has more than ten years of experience in the IT industry,  will lead this program. 
Language 
If you are multilingual or passionate about learning new languages, consider enrolling in one of our language career training programs. Although only two language training programs are available, they are both led by seasoned professionals with years of hands-on experience. The Professional Interpreter course and the Professional Translator course will prepare you for a successful linguistic career.
Legal 
Being a lawyer is not the only way to uphold the law and fight for justice. All 14 of our online legal career training programs prepare you for a successful career in paralegal practices, mediation, arbitration, or something similar. Some of our top programs are the Certified Paralegal program, the Certified Legal Secretary program, and the Certificate in Family Mediation. 
Teacher Professional Development  
Working with children is different for everyone. Some childcare professionals function as teachers, while others work as daycare operators, counselors, and other positions. These professionals work with children daily and make a lifelong impact on their lives. Currently, there are 14 teacher professional development career training programs. One of the featured programs is the Child Development Associate with RBT program. In this program, you will learn the principles of child development for newborns and children five and under. You will also prepare to become a board-certified registered behavior technician by training for 40 hours and passing the initial competency assessment. Kerri Welch, Hannah Kruman, and Rachel L. White, who all hold master's degrees and have years of experience, will function as instructors for the course. 
Writing 
Establishing yourself as a writer can be difficult. Even people with bachelor's degrees in related subjects struggle to make a name for themselves. Therefore, enrolling in one of our writing career training programs is a great way to stand out from other writers and set yourself up for success. One of the featured programs is the Technical Writer Manager program. You will learn professional communication skills, business writing techniques, and management-related jargon. You will also prepare for the Certified Professional Technical Communicator exam. The course will be led by many seasoned professionals with countless years of experience. 
Start Your Career Today
No matter what industry you want to join, earning a certificate from an online career training program will benefit you. In addition to standing out from other professionals, participating in a career training program can incentivize employers to increase your salary or offer a promotion. Click here to visit our website and learn more about the available online career training programs.