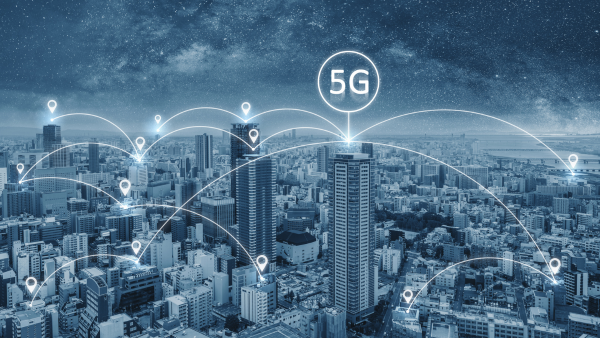 5G technology is revolutionizing communication and is expected to support several improvements in telecommunications. Now, you can enter the exciting 5G revolution by earning a professional certificate from SDSU Global Campus, in partnership with Qualcomm. 
SDSU Global Campus is excited to partner with Qualcomm to offer the Qualcomm Associate-Level 5G Certification program for the first time. As a wireless technology leader, Qualcomm's Associate-Level 5G Certification program features training in cutting-edge 5G telecommunication technology led by expert engineers from Qualcomm. 
Whether you're an engineering professional or an industry newcomer, the 5G Certification program can accelerate your career and open new doors. 
"With lightning-fast speeds and ultra-high reliability, 5G allows us to communicate and conduct business in ways previously unthinkable," said Vikram Malhotra, Senior Director of Program Management at Qualcomm Technologies, Inc. and head of Qualcomm Academy. "We are excited to partner with SDSU to train students on the latest 5G technology to help prepare them for a career in 5G."
The new partnership represents a renewed focus for SDSU Global Campus as we work with local companies and organizations to offer students unique opportunities to expand their educations in emerging technologies.
"By forging partnerships with industry leaders like Qualcomm, SDSU Global Campus is not only advancing our mission of providing accessible education to the community but also creating invaluable job opportunities for learners aspiring to embark on exciting careers in 5G technology," said SDSU Global Campus Dean Ian Gibson. "Together, we are shaping the future workforce of this dynamic field."
What Does Earning a 5G Certification Look Like?
The first course you will take is 5G Technical Training, in which you will learn about the 5G NR (new radio) global standard and how it supports the growth of the 5G ecosystem. 
The second class of the course sequence is the 5G NR Air Interface Training course. In this class, you will learn how 5G technology delivers the high-speed and low-latency connectivity required to support advanced applications and services. 
The final course is 5G NR Call Processing: Non-Standalone Mode. You will learn the capabilities of 5G NR non-standalone mode (NSA) and how to leverage new technologies within existing 4G infrastructure. 
Once you complete these three courses, you can sign up for the 5G certificate exams. The duration of the exam is two hours and consists of 80 questions regarding topics like: 
5G technology fundamentals 

mmWave & Massive MIMO 

Beam management 

E2E 5G signaling flows 

5G architecture 

5G protocol stack 

5G air interface operation 

5G features: BMP, mobility, voice 
You will continue to have access to coursework for a year after the date of purchase and will never need to renew your certification. 
Features of the 5G Certification
The Qualcomm Associate-Level 5G Certification program is: 
self-paced

online

lower cost
It's open to current undergraduate and graduate students and working professionals with backgrounds in engineering, wireless technology, or telecommunications. Earning the certification opens job opportunities, such as: 
Network architect 

Network administrator 

Radiofrequency engineer 

Network security specialist 

Sales specialist 

Test engineer 

Solutions engineer 

Deployment technician 

Software developer 

IT specialist 

Product manager 

Systems designer