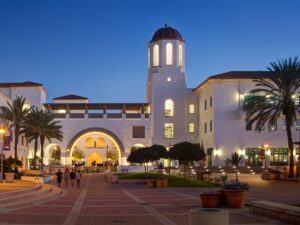 SDSU Global Campus provides innovative programs designed to meet the training and workforce needs of the many communities we serve. This includes high quality educational programs delivered both domestically and internationally in all formats — online, face-to-face and hybrid.
In order to continue to provide exceptional programming, SDSU academic departments and instructors work closely with the SDSU Global Campus Program Development Team to develop our course offerings. Our team is made up of academic professionals who have considerable experience in program development across a variety of disciplines.
Aimee Davis

Aimee Davis has worked as the Director of the Osher Lifelong Learning Institute at SDSU for the last 4 years. During that time, she worked with a team of staff members, instructors, and dedicated volunteers to provide lifelong learning opportunities to adults age 50 and better. Before coming to SDSU, Aimee worked for San Diego Hospice, where she developed new programs and managed a large group of volunteers.
As a first-generation college student and SDSU graduate of the class of 2000, Aimee is deeply committed to providing access to quality education and removing barriers for students. She is excited to work on expanding access to SDSU through self-support programs offered through SDSU Global Campus.
Aimee will be working with the SDSU College of Engineering and the SDSU College of Education.
Casey Rothenberger
Casey Rothenberger worked with SDSU Global Campus for over 11 years in various roles, starting as a student assistant while earning his undergraduate degree. His main goal for the team is to develop and implement a program development structure that allows SDSU Global Campus to be responsive, nimble, and to develop new programs that will provide access to students who would not have it otherwise.
Casey will be working with the SDSU Fowler College of Business, as well as working with the community and industry to develop customized training programs to support the local workforce.
Jaime Groth

Jaime Groth brings 15 years program management and development experience to the team. In addition to her experience with SDSU Global Campus, she has worked at several local non-profits, including San Diego Hospice and San Diego's Ronald McDonald House Charities.
Jaime brings a love of strategy and completing puzzles to the program development team, as well as a passion for education, research, and a particular interest in building things. She hopes to construct and grow programs needed by the local and international workforce and to support SDSU's vision for education in our community.
Jaime will be working with the SDSU College of Sciences and the SDSU College of Health & Human Services.

Teresa Grosch
Teresa Grosch has been creating new programs within higher education for 12 years. She has experience in both the University of California and California State University systems. Teresa is focused on fostering partnerships with faculty and staff to create more opportunities to serve existing and prospective students.
Teresa will be developing new degree completions and certificates with the SDSU College of Arts & Letters and the SDSU College of Professional Studies and Fine Arts, as well as developing partnerships with local community colleges and other off-site degree completion programs.