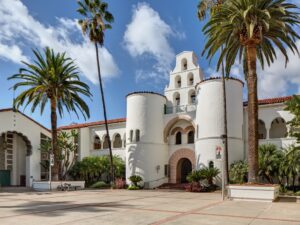 SDSU Global Campus opens San Diego State University to all learners everywhere — learners who want to become an active member of SDSU's welcoming community, learn from the same renowned faculty, and have access to many of the same student services that their fellow on-campus community members enjoy in a way that fits their schedule and location. 
The goal of SDSU Global Campus is to extend SDSU, without boundaries, across the binational region, the state, and the world.
SDSU Global Campus works with the SDSU academic departments to build, promote, and manage programs designed for all types of students. Those include multi-site, off-site, and online courses, as well as Winter Session and other programs that fall outside the traditional school year.
By capitalizing on new student support and learning technologies, skilled digital marketing, focused instructional design of learning content, and a student services framework, SDSU Global Campus will:
Expand access to all learners with courses designed by experts and professionals.

Increase workforce initiatives, partnerships, and networking to better serve working adults.

Provide a range of services in an integrated manner that will support academic departments.

Provide a unified student access point for SDSU services. 
SDSU Global Campus will ensure that each student has the same positive experience with SDSU from start to finish, no matter where they are located. Our model consists of four major areas: recruitment, enrollment, retention, and graduation. SDSU Global Campus is designed to bring students and SDSU programs together, facilitating a meaningful, positive, and lasting relationship.