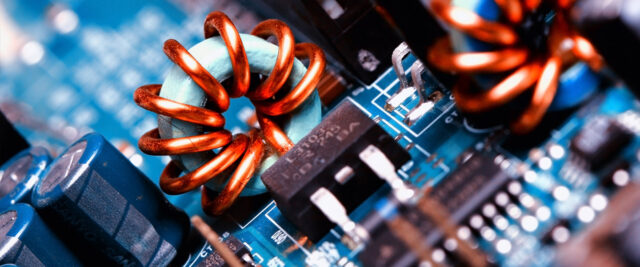 Beginning in fall 2021, students looking to earn a master's degree in electrical engineering will be able to do so, on their own schedule and fully online, from anywhere in the world.
This is the first time SDSU's Masters of Science in Electrical Engineering program has been offered online through SDSU Global Campus. No GRE is needed to apply and the program can be completed in as little as two years.
Dr. Mahasweta Sarkar, Professor and Graduate Advisor for the SDSU Department of Electrical and Computer Engineering, said the new online master's program allows students who earned their bachelor's degrees from the department to continue their education with an institution they know and trust.
"They like the program, the professors and how it's done here, but mostly for work reasons, they've moved to another state and can't enroll in our program," Dr. Sarkar said. "That was one motivation behind starting the online masters program."
The online master's is built on a simple philosophy of "your time, your pace," which provides flexibility to students in how fast or slow they complete their online studies, Dr. Sarkar said.
Also, students will be taught by the very same professors who teach the on-campus master's program, she said.
"They're the same faculty so you get the same value," Dr. Sarkar said. "It's tried and tested, the content is solid, the people who are teaching it have been doing so for a while."
Advancing in the Engineering Field
San Diego may be best known for its amazing year-round weather, burgeoning craft beer industry, and tacos, but the city and surrounding county are also a hub for telecommunications and power companies who are always on the lookout for new workers.
Local companies like San Diego Gas & Electric, Qualcomm, and Viasat already employ graduates of the SDSU electrical engineering program, Dr. Sarkar said. Many of those workers are looking to move up the corporate ladder by advancing their education with a master's degree, she said.
"We have people in corporate jobs who want to advance their careers with a higher academic degree but can't afford to take two years off from work to go to school full time," Dr. Sarkar said. "So this program is perfect for them.".
Alan Dulgeroff, Director of Electric System Planning for San Diego Gas & Electric and a graduate of San Diego State University with a Master of Engineering and Bachelor of Science in Electrical Engineering, said employing people who have advanced degrees helps the local utility lead an industry that is changing faster than ever to serve the diverse and evolving needs of communities.
"We champion and support employees continuing their education to be even more effective and greater innovators in our industry," Dulgeroff said. "We see higher education as a big part of shaping the future."
Many leadership and technical positions at SDG&E either require or prefer a master's degree, so adding that graduate-level education to a resume definitely sets an employee up to advance in their electrical engineering career, Dulgeroff said.
"By having that more advanced course work, they are able to more deeply and broadly innovate and engineer our system now or for the future in more creative or complex ways," Dulgeroff said. "As an undergrad, you learn the fundamentals of planning and operation of a power system and how to optimize it. As a master's, you build on that, studying emerging technologies that will create a more advanced and resilient electric grid."
Dulgeroff has a personal appreciation for masters students who choose to finish their degrees online through Global Campus. After earning his bachelor's degree, he began work on his masters and completed about three quarters of the required course work, before increasing job and family obligations. It was about two decades later before he returned to campus to complete his master's with in-person classes.
"I wish this online program would have been available back then, because the flexibility might have made it a lot easier and faster," he said.
Two Paths of Study Available
The online master's program offers two areas of specialization: Telecommunications and Power and Energy Systems, Dr. Sarkar said.
Developed with the help of SDSU's renowned College of Engineering, the online Master of Science in Electrical Engineering program can help you earn a graduate-level degree from San Diego State University without the need to attend classes on a college campus. The coursework is highly accessible and can be completed entirely online, making the program ideal for working professionals from all over the world who want to advance their engineering career.
The program focuses on advanced analytical, technical, and engineering design skills with the option to specialize your curriculum by studying either Energy Systems and Power or Communications and Networks, depending on your career goals.
The online courses are taught by experts from SDSU's Department of Electrical and Computer Engineering. The curriculum has also been developed with the help of partners in San Diego's rich industrial network, including SDG&E and NAVWAR. Through a combination of online lessons, expert instruction, and job-embedded projects, you'll acquire the skills you need to join the next generation of engineers who will build the electrical systems of tomorrow.
Apply Today for Spring 2022!
Applications for the first cohort of masters students in fall 2021 are now closed, but applications are being accepted until October 15, 2021 for the spring 2022 semester.
For more information or to learn how to apply, please visit neverstoplearning.net/mselectricalengineering.