SDSU Global Campus has a new partner nearby — San Diego State University Imperial Valley. The two are partnering to offer two new degree programs for Imperial Valley residents, available beginning fall 2021.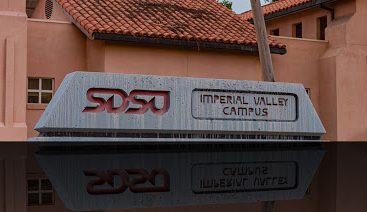 For students interested in completing the Fowler College of Business Bachelor's of Science in Business Administration online degree completion, or the Bachelor of Science in Child Development online degree completion from the Department of Child & Family Development in the College of Education, SDSU Global Campus is offering these two flexible, online programs taught by SDSU faculty. SDSU Global Campus advisers will provide on-site services at the Imperial Valley campus.
It's a move to increase the access to SDSU courses, instructors and faculty beyond the Mesa.
"These programs will extend access to a wide range of learners in the Imperial Valley region, in service of SDSU's core mission, and we look forward to expanding these offerings in the future" said SDSU Global Campus Dean, Radhika Seshan.
The on-site advising SDSU Global Campus will provide including in-person* discussions, coursework guidance, supplemental instruction support, and a dedicated on-site student success advisor. 
Degree Completion Programs
B.S. in Business Administration
The Fowler College of Business, through SDSU Global Campus, will offer special sections for SDSU IV students in its B.S. in Business Administration degree completion program. The program features the General Business Major which covers core business concepts, including accounting, business ethics, finance, information systems, leadership, management, marketing, operations and supply chain management, entrepreneurship and strategy. The program blends essential topics with the important trends and issues facing today's business leaders.
Estimated Completion Time: 2 Years
Course Format: Online
Fall 2021 Applications Due: May 15
The B.S. in Child Development program provides students with the skills needed to promote positive child and family development. The program is designed to help students understand the physical, cognitive, and social development of children in the context of families, communities, and culture. Course topics include community networking and engagement; the provision of family-centered, developmentally, linguistically, and culturally sustaining programs and practices; parenting; co-parenting; and peer relationships. Field placement experiences in the Imperial Valley region give students hands-on learning experience with children.
Estimated Completion Time: 2 Years
Course Format: Hybrid
Fall 2021 Applications Due: May 15
Want to Get Connected?
If you have any questions about the SDSU Imperial Valley Degree Completion Program, please contact Francisco Peraza by emailing fperaza@sdsu.edu. Applications for the program are due May 15.
*In-person components are available virtually due to COVID-19 restrictions. Once restrictions are lifted and in-person education resumes at each site, these services will be provided on your community college campus.