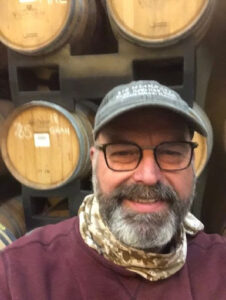 Gus Vizgirda has been in the wine industry for more than 25 years. He's worked his way up, starting off cleaning cellars, then in the wine lab, then working as an assistant winemaker, and finally as a head winemaker. Vizgirda is currently the winemaker at Wilson Creek Winery in Temecula, where he's worked since 2014. 
He's a staple of the Temecula wine community, as he's worked at eight different wineries in the region. His wines have won numerous gold medals and awards throughout the years, including California Best-in-State Sauvignon Blanc and Viognier.
It's a job he loves waking up every morning for — even if it's at 2 a.m. to get down to the cellar. 
"It encompasses so many facets of who I am," says Vizgirda. "One facet is the scientific aspect of wine, you're in the lab looking at the chemistry of wine. I also get to be sort of a trailblazer. Places like Napa and Sonoma have it figured out, but here in Temecula, I get to be part of defining what the flavor and style of the Temecula region is."
For Vizgirda, his love for wine is closely tied to his relationship with his customers. "I also enjoy the human element of wine," he says. "I meet a lot of people who may not know that much about wine, and you get to introduce them to this thing you love and see their eyes light up."
Growing the Wine Industry Through Education
Vizgirda has expanded his footprint by teaching others about the local wine industry. He teaches an introductory wine making course at a Temecula-area community college, and he's been an instructor with SDSU Global Campus since 2010. 
The Professional Certificate in the Business of Wine program is a combination of lecture, reading and tasting — a holistic approach to wine. Our program prepares you for the Sommelier certification exam and helps you train for success in wine-related occupations. Through engaging discussion and directed tastings, you'll experience the world of wine twofold: wine business education and wine education. 
It's the second area, wine education, that Vizgirda lends his expertise to SDSU Global Campus students. Vizgirda teaches three courses in the program: Winemaking Behind the Scenes, The Character of Wine, and Wine Flaws and Faults.
Vizgirda claims his job is to "counter the sommelier side," meaning his expertise is in the scientific side of wine. In Vizgirda's Wine Making Behind the Scenes class students see step-by-step the processes wine goes through before it gets to the bottle. In The Character of Wine class Vizgirda breaks down wine to each individual element — tasting each acid by itself. His collection of "bad" wine serves a learning purpose in the Wine Flaws and Faults course, where Vizgirda and students dissect each wine to learn from mistakes that were made throughout the process.
Vizgirda believes it's an exciting time for the industry and for people who want to get into it. He said business boomed during the pandemic as people were staying home and consuming more wine, and now that COVID-19 restrictions have begun to lift, people are seeking out local attractions and experiences. For the Temecula wine region, this means tasting rooms filled with Southern Californians. Vizgirda pointed out the popularity of the region, as it's about halfway between Los Angeles in San Diego.  
Vizgirda's record is 96 days in a row without a day off. For him, his work in the wine community is his passion. 
Begin Your Wine Education With SDSU Global Campus
To learn more about SDSU's wine program, please visit neverstoplearning.net/wine.