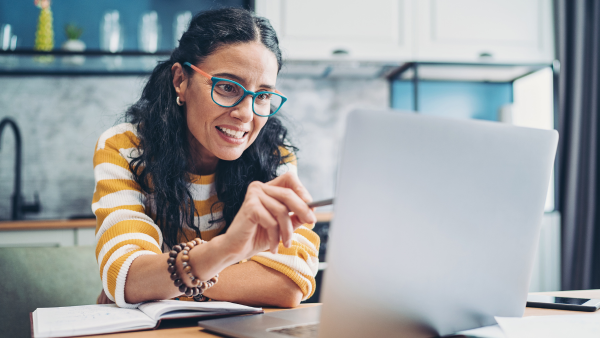 If you are considering completing your college degree online, you probably value the convenience, flexibility, and freedom of online learning. However, you may also wonder if your online courses will provide you the same quality education that you'd receive from an in-person degree program.
At SDSU Global Campus, our degree programs are almost identical to those delivered on campus at San Diego State University. That means you're experiencing the same courses, the same instructors, the same services, and the same outcomes as your on-campus classmates.
Our instructional design team works closely with SDSU's academic departments to ensure all online courses maintain the highest level of academic excellence, integrity, and rigor as their on-campus counterparts. We work closely with our faculty, drawing from their professional experience to produce curriculums designed to match SDSU's on-campus programs that are continuously updated and career-oriented.
All degree programs and majors at SDSU (in-person and online) are accredited via the WASC Senior College and University Commission, which is the regional accrediting agency that serves public and private higher education institutions throughout California, Hawaii, and the Pacific.
Best of all, upon graduation, you'll receive the same valuable diploma as any on-campus graduate of San Diego State University.
Experience the Benefits of Online Learning
SDSU Global Campus' online opportunities allow you to have flexibility and freedom in where and when you take your classes without sacrificing the academic rigor and instructional expertise that will guide you to become successful in your educational and career goals.
Our programs are designed to increase educational opportunities for the students of today and the professionals of tomorrow, making sure you don't have to put your professional life on hold in order to earn a degree. That way you have the flexibility to attend to life, work, and other obligations, all while accomplishing your academic goals.
It is also important to note that when thinking about a traditional graduate program, you need to consider the cost of room and board, travel, and other expenses that would not come into play if you were to take an online degree completion program. Our online programs allow you the freedom to study not only on your own schedule but at any location you choose. We make it possible for you to earn your degree from SDSU in the comfort of your own home. 
Here are some notable instructors and programs that may speak for the merit of SDSU Global Campus' valuable online quality.
Presidential Research Fellows as Instructors
Two of our online instructors, Dr. Natalie Mladenov and Dr. Junfei Xie were named Presidential Research Fellows for 2023! Dr. Mladenov teaches courses in our civil engineering degree completion program and Dr. Zie is an instructor in our electrical engineering master's program. According to U.S. News and World Report, San Diego State University is ranked as one of the top best engineering schools in the state of California thanks to instructors such as these two. These renowned SDSU faculty members are being recognized for their outstanding research, scholarship, and creative endeavors in their respective fields. 
Learn Big Data Analytics from Industry Experts
As mentioned, your online courses are run by expert instructors teaching on-campus courses. One is Dr. Ming-Hsiang (Ming) Tsou at SDSU's Center for Human Dynamics in the Mobile Age, a research institute of SDSU's College of Arts and Letters. 
Dr. Ming-Hsiang (Ming) Tsou is a Professor in the Department of Geography and the Director of the Center for Human Dynamics in the Mobile Age. He received a B.S. from National Taiwan University, an M.A. from the State University of New York at Buffalo, and a Ph.D. from the University of Colorado at Boulder, all in Geography. 
His research interests are in Human Dynamics, Social Media, Big Data, Visualization, Internet Mapping, Web GIS, Mobile GIS, Cartography, and K-12 GIS education. Through his expertise, you'll receive an education in Big Data that's informed by a continuously-updated curriculum guided by professional experience and cutting-edge research.
Masters of Public Administration
The SDSU Global Campus online Master of Public Administration (MPA) degree program is designed to teach leadership skills to professionals who work in the public sector. You'll be able to earn a graduate-level degree in public administration from an MPA program that's ranked #1 in all the CSU schools and #5 in California.
This online MPA program has the exact same 36-unit curriculum as the on-campus program, taught by the same instructors, with the same academic expectations and outcomes.
Your courses are taught by experienced faculty at SDSU's School of Public Affairs who are passionate about helping you acquire the in-demand skills that employers are looking for. By the time you earn your degree, you'll have acquired the ability and the knowledge you need to improve your career and your community.