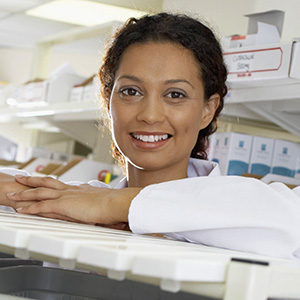 The SDSU College of Extended Studies health care program's spring semester classroom courses begin with Pharmacy Technician Training and Test Prep on Monday, March 14. The Clinical Medical Assistant and EKG Technician Certification classes start Tuesday, March 15.
These are accelerated courses that prepare students for state certification exams. The Clinical Medical Assistant course also includes an externship opportunity where students earn valuable clinical patient hours.
Numerous SDSU students have advanced in their careers because of the health care program.
"I'm so happy for the availability of the Pharmacy Technician program, the evening schedule, and the very knowledgeable, helpful, and accommodating instructor," said program graduate Dan Ines. "Last month, I took the PTCB exam and I'm proud to say that I passed. This is what I had hoped to gain and, with certainty, the expectation has been met."
Added former student Michael Tomayko:"The EKG tech program benefited me in many ways. I was an EMT working for an ambulance company and wanted to move to a more stable and profitable arena. Not only was I very confident in the skills I learned during the EKG tech program, I was immediately able to get a new job as a health care assistant and a telemetry tech on a medical surgical floor at a local hospital."
According to the Bureau of Labor Statistics> (BLS), health care occupations and industries are expected to have the fastest employment growth through 2024, projecting to generate 9.8 million new jobs. In its latest report, the BLS noted that "job growth in health care averaged 40,000 per month in 2015, compared with 26,000 per month in 2014."
SDSU's College of Extended Studies is a state-approved provider for the Federal Workforce Investment Act for its health care program.
For more information, visit NeverStopLearning.net/healthcare, email healthcare.ces@sdsu.edu or call (619) 594-3946.