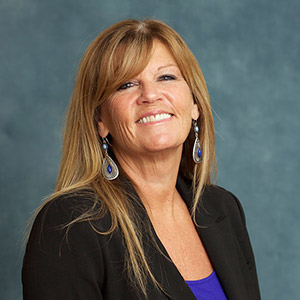 Lori Sipe has more than 20 years' experience in the attractions industry, most recently as the director of business analysis and strategic planning for SeaWorld California. She has written business, financial, and marketing plans for hospitality businesses and facilitated strategic planning sessions for diverse groups ranging in size from five to 50 through Planning Gurus, a company she founded. Recent projects with corporate partners include developing and integrating service standards at nine theme parks owned by Anheuser-Busch and facilitating a business plan for the educational arm of the International Association of Amusement Parks and Attractions (IAAPA).
Why is the SDSU Master of Science in Hospitality and Tourism Management (HTM) program unique and why does it give an edge to professionals?
It is unique because of the faculty – they are teachers as well as individuals who have worked in the industry for many years. They have a passion both for learning and for connecting to the industry, so that is very unusual in a master's program.
Why do HTM professionals need to further their education?
In terms of HTM, I believe there's a lot of evidence out there to suggest that none of us gets to stop learning no matter what our age or what our title is. In hospitality and tourism management, the consumers' expectations continue to change. Once we feel they are satisfied or engaged in a way that makes them say "WOW," we as industry professionals have to take it up a notch. So we have to continuously learn and raise our game.
What kinds of hands-on experience will a student gain in this program?
The first thing that comes to my mind is the capstone project. It's a project that they do within their own organization, which will help what they are learning become very real. It allows them to synthesize all the information that they've learned, and they will implement that in their own way – in a way that is going to improve their organization.
A unique aspect about the program is that the San Diego marketplace is a laboratory for learning about the hospitality and tourism industry. We have a first-class convention center. We have all the major hotel brands large and small. We have a community of beer drinkers and brewers that are starting to rival anything that exists in the U.S. We have a meeting and events industry that is thriving. We have restaurants, attractions, and culture – all of those things provide our students to engage with the local community. What that means for our students is that they are going to network with people like the general manager of SeaWorld or the general manager of Marriott. They will engage with high-level and passionate people in our industry.
What are the benefits of a hybrid – online, on-campus – program?
The hybrid option allows us to have connectivity – we get to see each other and engage face to face, and it also provides flexibility to study somewhere other than in a classroom. Hybrid learning is ideal for the working professional – it's something that differentiates us from other programs.
What are the benefits of a program that is open to students worldwide?
We live in a global society so a program that allows us to integrate a face-to-face environment and an online community is beneficial to students. Students can be in the U.S. or outside of the U.S. We will have a synthesized collection of learners – individual diversity and worldview differences. It is beneficial to have different mindsets when solving complex problems and systems like the hospitality and tourism marketplaces.
What are the new trends in the HTM industry and how will this program address them?
The first mega-trend is similar in most industries – things are getting more complex. We no longer have the answers to all the problems that exist whether they are global social issues or issues in the business and hospitality industry. We need to understand these complex situations require a multiple viewpoint solution. No one person can answer the issues, we have to work together in teams.
What are three adjectives that sum up this program?
Well the first thing that comes to my mind is special. I feel like I work with a special group of faculty members. I feel like our San Diego laboratory is a special place to engage in learning and networking.
The second would be integrated. We are integrated with the industry. We are integrated within our disciplines, so it's not going to feel like you're taking classes that are not connecting to each other.
The third is customized – we committed ourselves to providing individualized instruction. We realize our students will be entering from different places in their careers, from different backgrounds, and from different bodies of knowledge. So we adapt to customize to the individual.