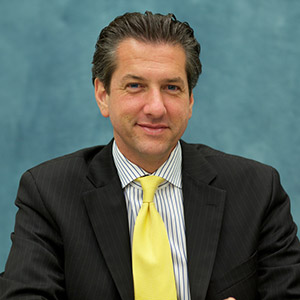 Jeff Voyles is a leading authority on the international gaming industry and is heavily engaged in Asia specializing in gaming operations and strategic joint ventures. He was employed by the MGM-Mirage Corporation for 12 years in a variety of positions ranging from dealer, corporate trainer, senior gaming instructor, scheduling coordinator, contributing writer for MGM corporate briefings, table games supervisor, table games pit manager, and a member of the advantage play detection team.
What makes the HTM program unique and why does it give an EDGE to professionals?
The SDSU program is unique and gives an edge to professionals because it enhances their leadership abilities – abilities that they don't really know they have yet. The program is unique enough to bring that out in them. It's edgy enough to bring them into a classroom experience and provide exercises that make a student say, "Hey look, I didn't know I could do that." There are a lot of things that this program will enhance that most of the students really didn't realize that they had the potential to do.
Why do HTM professionals need to further their education?
HTM professionals need to further their education because it's a competitive advantage. It's an opportunity to not only enhance your skills, but be able to understand other people's situations, certain corporate environments, and be able to work around the human capital. It's very important that the students understand that it's not only enough to be exactly where you're at but you have to be able to forecast where you'll need to be.
Which kinds of hands-on experience will the student gain in this program?
The kinds of hands-on experience that the student will gain are the ability to work with professionals in certain industries – these are seat-level executives. These are industry professionals that have been successful on all levels and it gives them the opportunity to interact with them and ask them questions on a very personal level. That's very unique to this type of program – you get to interact with successful people who have achieved greatness in certain sectors of the industry.
What are the benefits of a hybrid (online and on campus) program?
There are a lot of benefits of a hybrid online and on campus program. One, they get to uniquely use the technology that is available to them to solve problems. You need to enhance not only your technical skills but also your social skills. Also leadership skills and group activity skills come together.
What are the benefits of a program that is open to students worldwide?
Students have the opportunity to access this type of program via the Internet and this is where education is going. This is once again a blended program that allows them to tap into skills that they use already, and maybe skills they haven't used – they can enhance those technical skills and be able to search and find the solutions to certain problems. Students can be anywhere in the world and access the Internet, and this gives them the ability to work with this type of program and access the certain instructors that can enhance their abilities.
Another benefit of this particular program to a worldwide audience is that students are able to access the professionals and instructors that are available at San Diego State University. That's important because students can tap into this region. Internationally, there are no borders or barriers to entry when you're dealing with the Internet and education, so you can be halfway around the world and still access the expertise and the leadership skills of professionals at San Diego State as well as the professionals in the industry over in the region.
What are new trends in the HTM industry and how will this program address them?
There are great trends in the HTM industry and the program addresses all of them. The industry is focused on using technology to efficiently run organizations and divisions of organizations, so this gives students the opportunity to enhance their technical skills through the online program and the ability to access the program and the content via online, which also enhances their ability to enhance their technical skills in their corporation and in their current position.
There are a lot of trends in the HTM industry and the program addresses them accordingly, enhancing social skills in leaders, and understanding the capital that drives your business as well as technical abilities. The program is a high-level academic achievement and it enhances technical skills and captures technological of corporations and certain industries. This is a big deal. This is what potential CEOs and seat-level executives need to understand. That it is not only one skill set, it is multiple skill sets – and it's technical and social.
Give me three adjectives that sum up this program.
Three specific adjectives that I think sum up this program are: aggressive, obviously edgy, and dynamic. It's dynamic in the sense of being able to capture the minds of certain individuals in certain industries. These are working professionals, so the edginess comes in where they are able to balance a family life, an academic life, and the ability to balance their professional life. So this program has to be dynamic and edgy. It has to fit into the lifestyles of many different people and many different students. These are nontraditional students. These are students who have been in the industry for five years or more and may have reached their capabilities within their job position, so the adjectives could be more than three. This is a program that deserves all different types of descriptions, and it has to capture the attention of the working individual that wants to pursue higher levels of achievement.
What kind of professional needs the HTM Edge?
What kind of professional in my mind that needs the HTM Edge is all professionals, any professional in an industry that is supervising a division, or supervising groups of people. These are leadership positions. These are positions that demand someone who understands and once again the ability to understand their staff and understand the direction of their staff, and the intentions and their goals. The overall professional in any sector in HTM really can benefit from this type of program because it's very flexible. It has the ability to tap into all levels of employees as well as all divisions of corporations, so there really isn't a limit on what type of professional.
Why did you as an instructor, want to become involved in this program?
I wanted to become involved in this program because it is edgy and this is the future. I have been involved in online education since the mid to late 90s. I am a result of online education as well as an instructor and a developer of programs, so I have been an advocate of this type of program for years. I am at San Diego State University because of their edginess and their ability to aggressively go after this new segment and reach out to the next 20+ years. This is the future and they are ahead of the curve. To be successful at this is to tap into professionals and to give them confidence. This isn't intimidation; this is academics and professionals providing a platform for people to learn. And a lot of times when you jump from an undergraduate to graduate degree there's an intimidation factor of, "I'm not sure I can do this." That barrier has been lifted so that we can tap into professionals that have the ability to say, "I am here to learn. I don't feel intimidated. I don't feel persuaded. I feel like I want to be here," and that's what this program will deliver.
How do you plan on using your business experience in the classroom?
I plan on using my business experience in the classroom in many ways – both practical and ongoing relevant experience. I bring all relative articles, experiences, and situations that I experience every day to the classroom. This is what keeps the attention of the student; make it relevant, make it directed toward what they can experience immediately, not something that happened 15 or 20 years ago, but what's happening now. What am I going to be involved in once I step out of the classroom again or sign off my class online? I am going to walk into a corporate environment that I already am in, and be able to use what I just learned online. So these are things that I want to bring to the classroom and continue to bring to the classroom. All the ups and downs, challenges, situations, and solutions that I have been able to solve myself, be able to provide to the workforce and to the people that I work with.