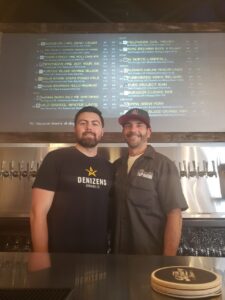 Starting a business is never easy. Starting a business in an industry that's new to you is even harder. But after working in the pharmaceutical/biotech industry for over 20 years, that's exactly what Chris Duncan did when he decided to pursue a career as a craft beer bar owner. He looked all over San Diego to find a way to realize his dream. After attending festivals and visiting breweries across the county, he decided to take some classes in the Professional Certificate in the Business of Craft Beer program at SDSU Global Campus.
Now, Chris is the owner of his own craft beer business, The Brewers Tap Room in Encinitas, CA, a neighborhood hotspot with 25 rotating taps that opened in 2017. We wanted to ask Chris about his unique experiences as a business owner, a craft beer professional, and an SDSU graduate.
How did you hear about the Professional Certificate in the Business of Craft Beer program?
I honestly don't recall specifically, but I was poking around everywhere I could find that had anything to do with craft beer – festivals, breweries, social media, publications, Cicerone, you name it. I don't know, once I found it, I didn't hesitate to enroll and haven't looked back since.
During the program, which classes or experiences helped you the most in your career?
Having never owned a bar, and knowing I would be opening a craft beer bar, every class had tremendous value. Front of house, back of house operations, draught systems, tasting, food pairings, it all has played a role in my business. Some classes, such as Draught Systems, informed me that I needed to learn even more. I took the Micromatic three-day course at their facility in Northridge and became a certified line tech, so I knew exactly what I needed for my draught system.
What is the most valuable thing you gained from taking part in the program? 
Aside from the fundamental knowledge I gained that directly impacted my ability to open my business, the contacts with some of the faculty who I still keep in touch with today have been great, for both social and business purposes.
What made you want to work in the craft beer industry?
For both, the love of craft beer and the ability to bring people together is the fundamental draw for me. But after 20 years in pharma biotech, the beer world is such a completely different experience and one that provided something very new and different from what I had been doing.
You left a 20-year career in the pharmaceutical/biotech industry in order to start a tap room. That's no easy task. What advice would you have given someone who is currently where you were 5 years ago, on the verge of pursuing a career as a craft beer business owner? 
You must have a passion for craft beer, have financial resources and time. If you truly love beer, it will suck you in, but I didn't entirely leave my pharma industry. I stopped working as a full-time employee, but I had income from consulting, which allowed me the time and income stream to start the process. Unless someone is financially secure with the money to put into the venture, it can be nearly impossible to stop working a paying job and start something from the ground up. You are looking at least 2 years from starting a location search to opening the doors.
Things can be accelerated if you buy an existing business or move into a space already built out, but I didn't. Starting any business, regardless of industry, will have its challenges, especially if it is new to you. The love and passion will be the constant motivator, but a good business sense is critical to the business ultimately being successful.
Nothing can be assumed to be easy, and you must know what you don't know and figure out a way to learn it. (SDSU's program is a good start, wink, wink.) There are no short cuts. Whether it is the city permitting process, California Alcohol Beverage Control (ABC) licensing, the build out or any number of things involved, cross every t and dot every i. Attention to detail will avoid silly mistakes, which can turn into business startup failure.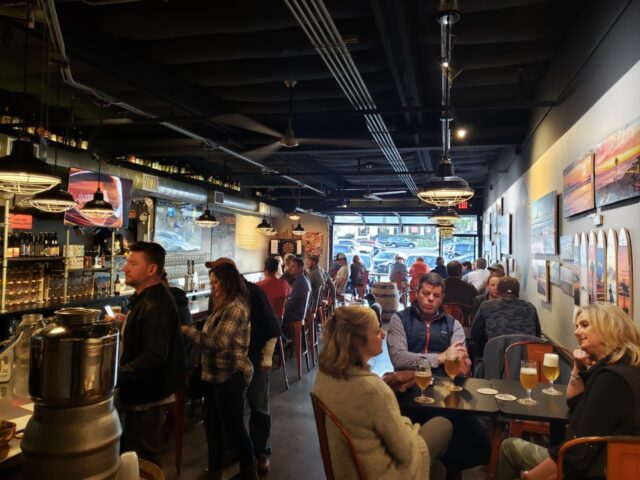 You own The Brewers Tap Room in Encinitas, which opened in 2017. What did you want to accomplish with The Brewers Tap Room? Have your goals as a business owner changed since you first opened? 
Opening The Brewers Tap Room has accomplished the goal of becoming the neighborhood "pub" where friends get together and enjoy beer. That was and still is the primary goal of opening the place in my area of Encinitas where we had nothing like this before.
My personal goals have changed a bit. I modeled the business every which way to forecast revenue and thought I was dialed in, but of course, things don't always turn out the way we plan. The business itself has been great and everything I hoped it would be, but it took a solid two years to get the business standing on its own. The financial goals have now changed from keeping the doors open to now, making it profitable.
What does a day in the life of a craft beer business owner entail? 
It surely depends on the type of business. Before deciding to open a craft beer bar, I looked into buying a brewery that was for sale and a small craft beer and wine distributor that was for sale. Lives in those businesses would be dramatically different than what I experience. And even now, more than two years into my business, a typical day is different than it was earlier.
I have a very good manager who oversees most of the day-to-day business, including researching, tasting and ordering beer, cleaning the lines (weekly), opening duties each day, ranging from cleaning the tap room to daily bookkeeping. Social media and micro-campaigns, as well as planning events such as tap takeovers, hosting events, and bottle shares, have all become a part of our daily routine that has come to make The Brewers Tap Room something very unique in Encinitas.
Your tap room has 25 rotating taps. How do you decide what's poured each day? Do you tend to focus on local beers? Certain styles? 
That is the hard but "funnest" part of the business. From day 1, the plan was to only serve independent craft beer. We focus on local breweries, but as other great beer has come available from outside of San Diego, we will bring in anything that meets our criteria. During the middle of last year, we became a Russian River account (no small feat), so of course, we have Pliny, Blind Pig, and other great beer from them when we can get it. I also wanted to make sure we had a balanced offering.
I hate going into places, and they are loaded with similar IPAs or are lacking in other good styles. I have all the taps grouped by style, which makes it easy for folks to find the kind of beer they are looking for. It is also important to keep the same style beers on the same lines. You'd never want to put a lager on a line that just had a sour or a stout. And of course, weekly line cleaning ensures the beer is always presented as the brewer intended.
In an interview you did with SDSU back in 2017, you mentioned that you took a trip to Europe in 1985 that was instrumental in your journey towards a career in craft beer. How important do you think traveling is for an aspiring craft beer professional? 
Travel is great for many reasons and something anyone should do to broaden their horizons on all fronts. I don't think it is critically important to someone wanting to get into the craft beer profession, but of course, getting out and experience what the craft beer world has to offer will only make one more enlightened. For me, at a young age, it exposed me to the great beers of Europe back before we had craft beer here and made me aware of how bad our beer was and how good it could be.
What are some of your favorite beer-producing regions? Are there any regions that you've visited that you'd recommend to beer tourists or craft beer professionals?
It depends on one's style preference. That said, it is hard to beat the French/Belgian region for the amazing abbey ales, saisons, and wild ales they produce. I don't care what anyone says, the northeast region of the U.S., hands down, makes the best hazy/NE style IPAs, so if a fan of those, any trip to the New England area warrants a visit to those breweries.
No matter the style, when you can enjoy beers from their source, even ones like Heineken or Guinness, and you can taste the difference from what it is there vs. here, you gain an appreciation for how beer should be enjoyed close to the source.
With so many tap rooms and breweries in San Diego and the surrounding area, what can craft beer professionals do to help their brand stand out? 
For retailers, the key is selection and quality presentation. Not all craft beer is good, so effort must be made to ensure the beer being brought in is good and represents the style well. Maintaining clean lines, glassware, and educated staff to help folks make decisions must also be a part of business practices. Any place that doesn't employ these is either just a dive bar, chain, or simply not serious about good beer. 
As for brewers, it is a tougher road, but from a retailer perspective, they must have informed reps out every day visiting premises, building their brand and offering a combination of solid core beers as well as something new or seasonal coming out on a regular basis. Brewers can't rely on distributors for sales and promotion.
Do you have anything exciting in the works at The Brewers Tap Room? Any news or upcoming events that you'd like to share?
Oh, we always have something cooking! We had our third annual chili cook-off during the AFC and NFC championship games, which packs the house, and folks brought in some amazing chili to share.
My manager Justin and I are planning our next few months of tap take overs and will have a specific theme that will make them all pretty cool. We are very fortunate to have a group of beer nuts come in each month for a bottle share. They bring in some of the most amazing beers to share. It is open to anyone who loves beer and has something to offer — 7:00pm on the last Sunday of each month.
We have a Beer of the Month club, which gets members four different beers (packs or large bottles) specially curated for them every month for $55, which the members enjoy. We're also starting to think about plans for our 3-year anniversary in July. We collaborated with Dos Desperados on our first anniversary for a hazy IPA, aptly named "Hazinitas" which they brew every year for us, and I think they are going big with it this year. Vic Secret Hops is one of my favorites, so it is loaded with that and has been our best seller when we have it on.
Of course, regular stuff like $5 IPA Thursdays, Taco Tuesdays collaboration with Los Tacos next door, and other smaller weekly stuff keeps a nice group of regulars coming in as well. Being creative with programs and events is a large part of making things successful.
If you'd like to stay updated on the latest at The Brewers Tap Room, please follow them on Facebook, Instagram, or find them on the Barhero app for iPhone.