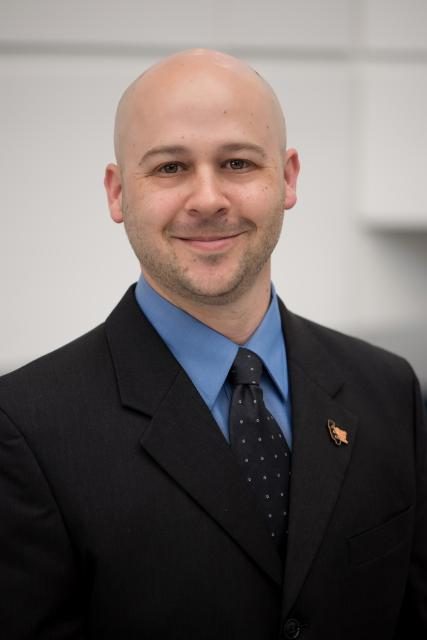 Brad Wungluck has worked with the City of Manteca, CA for over 11 years. He was recently promoted to the role of Deputy Director of Community Development, in part because he graduated from the Master of Public Administration program at SDSU Global Campus in January. This online program allowed him to obtain a prestigious graduate-level degree from San Diego State University without putting his professional life on hold.
We asked Brad about his experience with the program and how the knowledge and skills he's gained have put him in a position to succeed in his professional career.
What made you decide to participate in the Master of Public Administration program at SDSU?
I decided to participate in the MPA Program at SDSU for a few reasons. First, the opportunity to pursue a Master's Degree from an excellent institution remotely! Second, the cost associated with the program, as many others that I found while researching graduate school was very expensive; however, the program at SDSU is incredibly reasonable. The third reason I wanted to participate was because of the reputation and quality instructors throughout the program. And lastly, I was looking for a challenge, and the condensed program was certainly that!
Can you tell us about your professional background?
I am the Deputy Director of Community Development for the City of Manteca. I started working here over eleven years ago as a building inspector due to my experience in construction and development and have worked my way up over that time. However, the MPA program has recently helped me obtain another promotion from Chief Building Official to Deputy Director, thereby increasing my responsibilities and number of direct employees.
What were some of your favorite courses?
One of my favorite courses was PA 0600 with Dr. Crockett, which laid a good foundation for the work that we would do over the remaining part of the program. PA 0604 with Dr. Chanin was also a good foundation that dove hard into Social Science Research, which was a challenge but enjoyable when you could look back and see how much you learn over the semester. I also enjoyed PA 0640 with Dr. Espinosa due to its applicability in my position and the challenge of mastering that much math. Lastly, I enjoyed the variety of knowledge from other courses that were also applied during Dr. Flanigan's PA 0660 as it started us towards applying much of the history and foundational knowledge we'd been acquiring.
How was your experience with taking online courses?
Honestly, my experience was so much better than I thought. I was cautious and pessimistic about my ability to learn, retain, and utilize information and knowledge from online courses. However, I was extremely impressed with the balance of instructors to incorporate and rely on activities that helped solidify the information being communicated by the professors. For example, the reading materials, coupled with the discussion posts, group work, papers, etc. were great tools to help in the online environment. Further, the online courses provided some flexibility for things such as listening to lectures…even at 4:00 am when necessary!
In the final module, students must prepare an Applied Research Project to present to a panel during the final on-campus experience. Can you tell us a little about what your capstone project was like?
I want to say my Capstone project was fun and everything I'd hoped it could be; however, I quickly realized that being reasonable for the 16-week project was also necessary. So, while it was a lot of work and was the culmination of the work that I'd put in throughout the program, there are still things that I'd like to go back and tweak to make better. I'm sure I'll be able to do that soon due to its applicability to my current position. Besides that, the project was a lot of work but something that you can be successful at if you put the time in just like you have the rest of the program! It's stressful, requires a lot of time, but you can do it!
Having just completed SDSU's MPA program, what's the next step for you?
My next steps are putting more time and energy into my work and family for the time being; however, I can say that the program has definitely energized me and made me start to consider going even further and obtaining my PhD in the future!
Do you think the program has helped you move closer to achieving your career goals?
Absolutely! Not only has it provided me with a Graduate Degree, which is an incredible thing for a résumé, but it has also provided me with the tools and knowledge within Public Administration that are critical to being successful in local municipal government.
What would you say is the most valuable part of the online MPA program?
There are few things that are extremely valuable to the online MPA program that made it more enjoyable, made me more successful, and kept me going through the grind of it. The professors, my cohort members, having a supportive and understanding family and friends, the challenge of it that keeps you looking forward to the end of the program, and the flexibility the program provided so that if I needed to study at 4:00 am, at night, weekends, etc. I had that opportunity!
Do you have any advice for prospective students who are considering applying for the MPA program?
My advice, don't consider applying…do it! It's something that you certainly won't regret when you finish, realize what you've achieved, and what you can achieve with the tools and knowledge moving forward.