Deloitte's 2019 US Travel and Hospitality Outlook report provides a snapshot into the industry's future, highlighting the current status of the hospitality and travel industries while forecasting how the different sectors will perform through 2019 and beyond. US hotel gross bookings grew from $116 billion to $185 billion between 2009 and 2017. While talent gaps in travel and hospitality are not new, the magnitude of the current shortage is unprecedented.
Tourism currently employs about 1 in 10 people in the global economy. A Master's in Hospitality and Tourism Management can help career professionals, like yourself, who are looking to advance to the next level of leadership as a director, general manager, or CEO within a hospitality, recreation, or tourism organization or agency. Experienced hospitality professionals who wish to continue their education while maintaining their current positions within the industry would very much benefit from a Master's degree.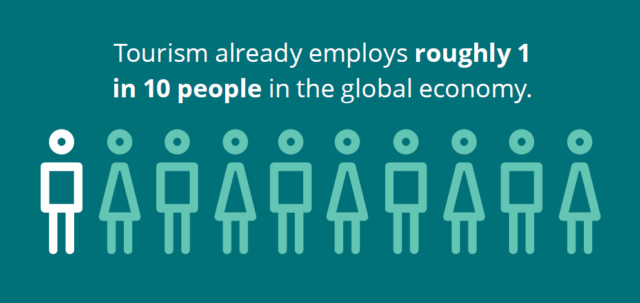 So, what can you do with a Masters in Hospitality Management?
Burning Glass Technologies provides real-time industry data on job growth, skills in demand, and labor market trends. According to their most recent employment data within the hospitality management industry, there are 19,916 jobs available and in demand for graduates of Hospitality and Tourism Management program, with projected growth in demand of about 7.91% in the next ten years. 
Hospitality and Tourism Career Paths
The following occupation groups are currently in high demand by hospitality and tourism companies, with their respected average salary potential and projected employment growth in the next ten years.
Logistics and Supply Chain Managers:

$71K – $95K

, 6.8% Growth

Food Service Managers:

$42K – $70K

, 9% Growth

Security:

$77K – $94K

, 8% Growth

Hospitality Managers:

$48K – $69K

, 4% Growth
Top Hospitality and Tourism Companies Hiring
Recent graduates of the Master's in Hospitality and Tourism Management degree program currently work for local and international brands like ITA Group, The Irvine Company, Hyatt, Host Hotels & Resorts, as well as the United States Tennis Association (USTA). The following list provided by Burning Glass highlights the top employers hiring graduates of the Masters in Hospitality Management degree. 
Deloitte

Applied Materials

Johnson & Johnson

Northrop Grumman

United Technologies Corporation

Lockheed Martin Corporation

Amazon

Aramark

Ernst & Young
Hospitality Career Titles & Opportunities
The types of careers you can go into with a Master's in Hospitality and Tourism Management is quite versatile. This leadership degree is applicable to more than 100 hospitality and tourism-related industries and virtually any career path. You can learn several applicable skills to prepare for new tasks and increased responsibilities. Here are examples of career titles for relevant positions for graduates of this degree program.
Supply Chain Manager

Security Manager

Logistics Manager

Logistics Management Specialist

Assistant Manager

Director, Supply Chain

Manager

General Manager

Restaurant Manager

Shift Manager

Food Service Manager
Whether you're looking to get into the hospitality and tourism industry, or trying to move up to a management or leadership position within your current role, a Master's in Hospitality and Tourism Management Degree will give you the business knowledge, aptitude, promotability, and self-assurance you need to move up and drive change within the industry. A hospitality management degree opens up a new world of opportunities to follow your interests wherever they may take you in the world, with the necessary skills to create experiences and operate businesses at any level. Learn more about the Master's in Hospitality and Tourism Management Degree today.