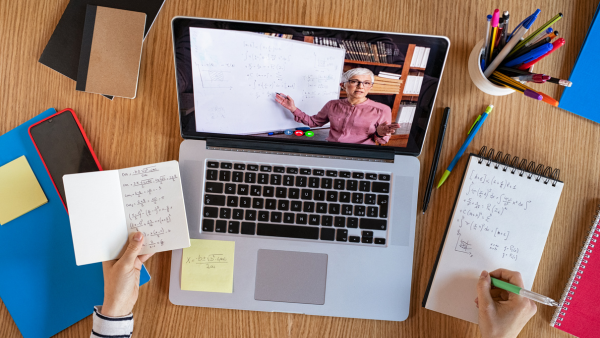 In today's fast-paced world, many students are unable to attend traditional colleges due to scheduling or location constraints. Fortunately, SDSU Global Campus provides an excellent alternative, an online learning forum.
"The program is online entirely, yet it sacrifices nothing in the quality of its training. This is a critical strength to allow for a working professional to take part in classes," said student Dr. Kenneth A. Kern, who enrolled in the Advanced Certificate in Regulatory Affairs program. "There are some live, web-based meetings, which is also a strong point. The material for each of the classes was well researched, always highly relevant, and despite the online aspect it still felt like this was life, classroom training."
Getting a high-quality education online is now more plausible than ever. Professors and students alike have become more familiarized with teaching and learning in this format, and there are more benefits to enrolling in online courses than you may have thought.   
1. Quality of education
The Global Campus is a part of San Diego State University, a well-respected institution, certifying that you will receive a valuable education. One of the most significant benefits of our online programs is that our instructors are the same professors you would have if you were to attend SDSU's on-campus programs. The faculty at SDSU Global Campus are experienced professionals in their fields, who bring real-world experience and expertise to their teaching. From this, you will gain practical insights that can be applied in real-life situations to help you achieve your goals.
2. Cost effective
SDSU Global Campus makes it possible for you to earn your degree without incurring the additional expenses associated with attending a traditional college by offering a cost-effective alternative. Even so, there are opportunities to receive financial assistance to diminish a cost barrier from standing in the way of your educational goals. SDSU Global Campus supplies financial aid and has a partnership with Workforce under the New Federal Workforce Innovation and Opportunity Act to financially aid certain qualifying programs.
3. Strong alumni network
Another advantage of SDSU Global Campus's online programs is the strong alumni network that you will become a part of after graduation. We provide you with opportunities to network and connect with other professionals in your field just as any other SDSU student. This connection can lead to job opportunities, mentorship, and professional growth, which makes your investment in your education even more worthwhile.
4. Variety of programs
SDSU Global Campus offers a range of programs across different fields, including business, education, engineering, health and human services, and more. We offer online degrees, certificates, professional development, career training, and personal enrichment programs for you to choose from. The diversity of program offerings allows you to pursue your interests and achieve your career goals, whether you are just starting out or looking to change careers. 
5. Personal interaction
A concern that you may have about online education is the lack of correspondence or relationship with instructors and peers if you are not face-to-face with them. Rest assured that our online courses are designed to facilitate interaction so that you can receive the support that you need to succeed. Through discussion forums, video conferencing, chat boxes, and emails, you are sure to be interconnected with your classmates and instructors. 
6. Flexibility
The flexible structure of online courses enables you to complete coursework at your own rate, making balancing work, family, and other responsibilities easier while earning your education. Set your own schedule and learn on your own time when you take online courses and avoid taking the extra time out of your busy schedule to go to a college campus. 
7. Unlimited Access
Something online learning offers is that course material is 100% online and accessible to you at all times. You can access and re-access your material whenever you please at all times of the day. So, if you are ever feeling uncertain about a topic, you can look over all material so you may fully understand each concept to the best of your ability. 
8. Comfort
Having access to your courses around the clock allows you to enroll and take them from anywhere across the globe. Whether you live far away from campus in San Diego, if you travel for work, or are even just taking a vacation, you are still able to finish school and earn an education from a reputable university under any of these scenarios. Our program makes it possible for you to learn from home and set a designated study space on your own terms, wherever that may be. 
9. Career Advancement
If you are looking to change career paths or gain skills for a salary increase, an online forum may be your best option. SDSU Global Campus' courses are designed to help working professionals advance their existing careers without putting their professional lives on hold. This way, you can accomplish your educational and career-oriented goals simultaneously.
10. Build self-discipline
Learning on your own time requires traits that are transferable to the workplace, one being self-discipline. Ultimately, you are responsible for completing each task you take on, and that takes hard work to balance. To learn on your own schedule means keeping a detailed list of your obligations, staying organized, and finding the time to give to each one. Doing so may help you become more focused on your goals and gain qualities that are valuable to your success in your career.
11. Global knowledge
Because SDSU Global Campus online programs are available across the globe, there is a likely possibility that you may meet many different people from different areas and origins. As a result, you will be able to interact and gain a broader knowledge of how your industry may operate overseas. You may also explore the different insights your classmates have to offer you in your subject of study.