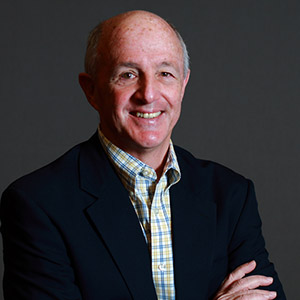 Kyle Craig has been involved in a broad spectrum of executive positions in his 30 years of business experience, having been the president of a multibillion-dollar franchise restaurant chain; Chairman/CEO of one of America's largest casual restaurant companies; and chairman of a new startup venture.
Craig has been recognized as one of America's most accomplished marketers. He began his career in the advertising agency business, but has spent the last 20 years in the restaurant industry. He became executive vice president of Worldwide Marketing for Burger King and launched the landmark "Battle of the Burgers" campaign. That campaign was one of the most successful campaigns in the industry's history.
What do you hope students will gain from your classes in HTM Master's program?
What I really hope that people gain is an appreciation for the new marketing tools of the 21st century. They need to have an appreciation for the traditional tools but social media, all the new things going on in terms of redefining how companies in the hospitality industry connect with their customers, and their patrons. That's what I hope I bring into this program; a new insight on how to make those connections.
How do you plan on using your business experience in the classroom?
I will bring broad business exposure and try to link it to course strategies. I will take an executive approach and then bring in people who have the experience with today's marketing tools. Other people in the industry who have real-life experiences today, and then I'll put those in a framework that will allow people to understand how they fit into an overall business experience in the hospitality industry.
What unique approach do you think you will bring into the classroom?
One of the things I think that will be unique is that a lot of the learning will be storytelling, and how those experiences relate to real-world situations. I find people don't remember theories, they remember stories, so if we craft old stories that have relevance and then relate those to new stories, I think that the storytelling will be pretty unique. It will give people a practical perspective on the challenges of this industry.
Where do you see students heading after they complete the HTM Master's program?
They will go into an industry that values how to connect with people and what makes the program at San Diego State unique – a program that focuses on the relationship side, the people side, and thinks long term, which is critical to success in this business. You need to connect with everybody from the cooks to the customers to the chairman of the board, and this program really recognizes that. It allows people to really understand themselves and then go into the business world and start to make those connections, so people will walk through fire for them.