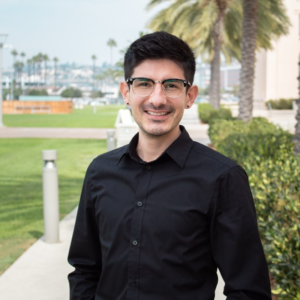 Advocacy is at the heart of Edgar Ontiveros Medina's work.
Ontiveros Medina finished up his Professional Certificate in Marketing in December 2020 with SDSU Global Campus. Since graduating, he's applied his new skills and knowledge in his position with Nathan Fletcher, Chair of the San Diego County Board of Supervisors.
Ontiveros Medina's work in the nonprofit sector and San Diego community extends back to his position with Mid-City CAN in City Heights, a nonprofit organization comprised of residents of the Mid-City neighborhood who aim to make the community a safe and healthy place for everyone.
His position as a multimedia designer with Chair Nathan Fletcher is allowing him to continue his work in the community, but now he's armed with more tools from the certificate program to make his work even more impactful.
"Before the program, I was learning from other colleagues and piecing together knowledge from different trainings and workshops. Now I have confidence and a comprehensive strategy to create content and communication that are relevant to our community," said Ontiveros Medina. "I have the knowledge to build communities online and create an experience for people to be informed about and stay engaged in the issues that impact our daily lives."
SDSU Global Campus' Professional Certificate in Marketing program is an online program that can be completed in as little as nine months. The program is a fit for beginning and established marketing professionals looking to expand their knowledge and skills, as well as entrepreneurs and business owners who manage their own media and marketing.
Before the program, Ontiveros Medina was mostly self-taught or taught by his colleagues. The opportunity to learn from working professionals was valuable to Ontiveros Medina. 
"The program is taught by professionals, not necessarily instructors or academics. So, these are folks who have been working in the field for years and offer a wealth of knowledge and experience," said Ontiveros Medina.
Ontiveros Medina's wheelhouse is the creative side of marketing. It's what he enjoys the most and finds the most purpose in. Now, Ontiveros Medina can blend creativity with brand strategy with the help of the certificate classes. This work is how Ontiveros Medina is making an impact in our community in his current position.
"I want to be able to take very complex information and concepts and translate them into accessible graphics and video content for digital campaigns that include social media, email, and web. As a Mexican immigrant and bilingual person I've always been committed to making information accessible to and uplifting the needs of immigrants, Black, Indigenous, and all people of color," said Ontiveros Medina. 
Earn Your Certificate in Marketing from SDSU Global Campus
The certificate program is eligible for discounted registration for SDSU Alumni Association Lifetime Members. Enroll today for Spring 2021.