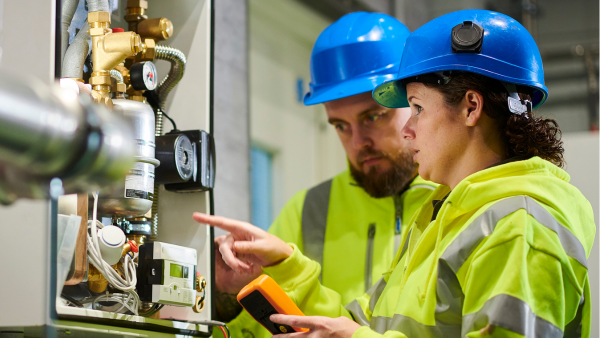 Whether you're looking to advance your career, find an engineering-related niche, or enter the world of electrical engineering, earning a Master of Science in electrical engineering can help propel you forward.  
What is Electrical Engineering?
Electrical engineers design, develop, test, and supervise manufacturing processes and applications of electrical equipment and systems. They play an essential role in society and ensure the safe completion of electric motors, navigation systems, communications systems, and other power generation equipment. 
According to the U.S. Bureau of Labor Statistics, the typical duties of an electrical engineer include designing new ways to utilize electrical power, making calculations to develop manufacturing standards and specifications, testing electrical products to ensure they meet regulatory requirements, and more. 
Some electrical engineers also decide to focus on the engineering of electronic devices. Therefore, the usual tasks of an electronics engineer are similar to that of an electrical engineer but also have key differences. Some of the typical duties include designing electric components for scientific applications, inspecting electronic equipment to ensure they meet standards, recommending design modifications or equipment repair, and more. 
What Can I Do with a Degree in Electrical Engineering?
As of 2021, electrical engineers held roughly 192,000 jobs. Some of the most popular industries they work in are: 
Engineering services: 21%

Electric power generation: 9%

Navigational and control instruments manufacturing: 7%

Research and development: 5%

Semiconductor and other electrical component engineering: 4%
Electronics engineers hold 111,400 jobs and there is an expected job availability growth rate of 6% in the upcoming decade. Some of the most popular industries these engineers work in are: 
Telecommunications: 18% 

Federal Government: 15% 

Semiconductor and other electrical component engineering: 10%

Engineering Services: 8% 

Navigational and control instruments manufacturing: 6%
Both electrical and electronics engineers can function under several different job titles. Here are nine job titles that you can apply for as an aspiring electrical or electronics engineer, followed by their average annual salaries: 
Controls engineer: $60,644

Project engineer: $77,686

Test engineer: $82,745 

Design engineer: $86,519 

Electrical engineer: $95,068 

Communications engineer: $99,134 

Systems engineer: $99,446 

Aeronautical engineer: $102,115 

Electronics engineer: $103,576 
How to Earn a Master of Science in Electrical Engineering 
Earning your masters in electrical engineering can be a worthy investment. At SDSU Global Campus, you can begin your career as an electrical engineer by earning a master's of electrical engineering in our new online master's program.
Our program requires 6 units of core classes and 24 units of electives, allowing each student to personalize their degree depending on their focus. Some of the courses you can elect to take include Power System Dynamics, Modern Communication Theory, and Advanced Digital Signal Processing. Throughout these courses, you will learn skills related to stochastic signals and systems, power systems, computer networks, digital communications, renewable energy, and coding theory. 
Since this program is designed for working professionals, it can be completed online in two months. According to Dr. Mahasweta Sarkar, SDSU Global Campus Senior Associate Dean and former professor and graduate advisor for the SDSU Department of Electrical and Computer Engineering, the program modality has benefitted many students. 
"We have people in corporate jobs who want to advance their careers with a higher academic degree but can't afford to take two years off from work to go to school full-time. So this program is perfect for them," Dr. Sarkar said.
With this form of learning, you can receive feedback quickly and participate in virtual discussions without commuting to and from campus.
Both domestic and international students are encouraged to apply, although only residents from select states are eligible. Apply today and propel your career forward.